If you need some help here are my 
Frequently asked questions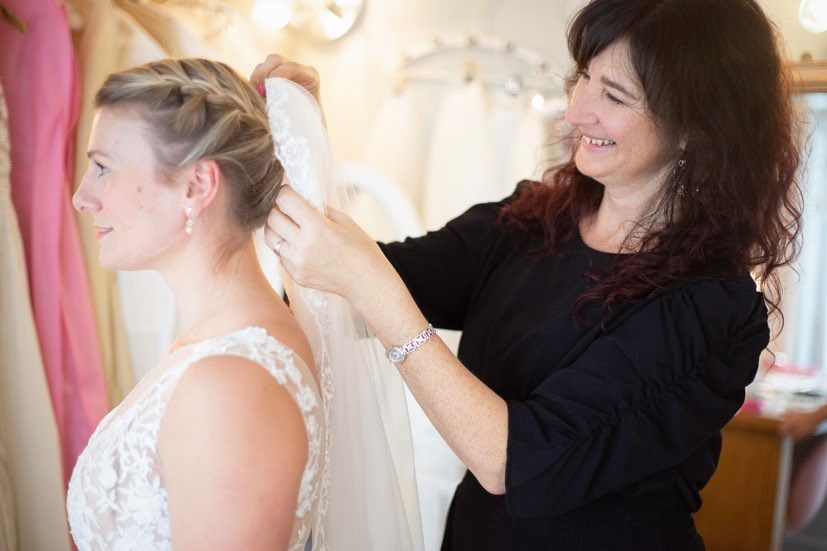 What alterations am I likely to need?
The alterations needed will vary for every bride.  Here is an idea of some of the types of adjustments that are made; adjusting the bust, waist and hips, lifting the shoulders, taking up the length, sewing in bra cups and adding a ribbon or bustle to your train to make it easier for some dance floor action!
I want to make some big changes to the style of my wedding gown, is it possible to customise my dress?
Yes! There are many design changes that can be made to complement your gown. From adding buttons and embellishments, including beading and lace, making or removing sleeves, swapping the zip for a corset back, or perhaps changing the neckline style or skirt shape, removing or adding layers and restyling the train. And so many more! Drop me a message if you have a question about a certain style change, I'm happy to chat anytime.
Can a separate overlay, jacket, shrug or wrap be made to match my wedding dress?
Yes, absolutely! I have sample styles available for you to try on.
How long is a bridal fitting appointment?
Each appointment is booked out for 45 mins.
Can my bridesmaids have their fitting at the same time as me?
Yes, however your fittings will be booked in separate slots that will follow on from one-another.
When should I book my fitting appointment?
It is never too early to start thinking about your alterations.  I suggest booking in sooner rather than later to guarantee my availability. I do advise contacting me at least 6 months ahead of your wedding day, or more if you can.
There is limited Saturday availability as only 2 Saturdays each month are available, and this is booked out on a first requested basis.
I'm going to be pregnant on my wedding day, will my dress still fit?
This is one of the questions I often get asked.  As long as you let me know that this is you, I can then look at all the solutions to your dress fittings and chat with you about various options, and I will always advise you on whether the adjustments would be cost effective.  Please also know that I am the soul of discretion and would always keep these details between us!
What if I've left my alterations to the last minute?
This will depend on my availability, however I do offer rush fittings if this is you.  I can turn around fittings in a couple of weeks, but you would need to be very flexible with your availability for them.
How many guests can I bring along with me to my appointment?
I politely ask that you keep guests to a minimum please, 1 or 2 maximum.  It is always lovely to either bring along your best friend or a family member.  Lots of my brides like to come along on their own for the first couple of fittings and then have a surprise reveal at the last fitting, which is so much fun!
What should I bring to my appointment?
Along with your dress, you should bring your wedding shoes and the undergarments you will be wearing on your wedding day.  If you are going to be wearing a bra with your dress this must be brought to your fitting or something similar, however bra cups can be sewn into the layers of your bodice if you do not want to wear a bra or if your dress is low cut or sheer.  Seamfree briefs are always the best option if your gown is slim cut or made from light weight fabrics, nude briefs are always suitable.  And if you are going to be wearing shapewear please bring this too.  I recommend bringing the correct underwear because it really makes a difference to the fit and line of your wedding gown.  Also, if you have anything else you'd like to try on with your dress please feel free to bring that too.
What happens once the alterations have been finished?
At your final fitting we will then book in a suitable collection time and I will then hand press and steam your dress so that it is absolutely beautiful and ready for your wedding day.
I want to change my weight before my wedding day, when should I book my fitting?
I still recommend booking in a first fitting as soon as possible so that all the adjustments can be assessed in plenty of time.  However, please don't worry because certain areas of work can be held off until nearer your wedding day.
What if my weight fluctuates?
Firstly, don't panic! This is actually a question I often get asked. We can easily book in an extra fitting date nearer to your wedding day to ensure your dress is fitting perfectly.  If you feel this happens to you then just let me know during your first appointment.
How much does it cost?
Every dress will vary in price and this is due to the amount of detail involved and what needs altering.  You can drop me an email to chat about your dress alteration requirements.  I do offer a no obligation consultation appointment where you can come along with your dress and I can then give you an exact costing along with a recommended schedule for fittings.
Have a question that is not answered here?
No problem! Simply drop me a message or call for a chat, anytime. I'm always happy to answer any queries.