'Your bridal fitting will be one of the most important and special moments of planning your wedding, slipping on your dress makes everything feel more real.'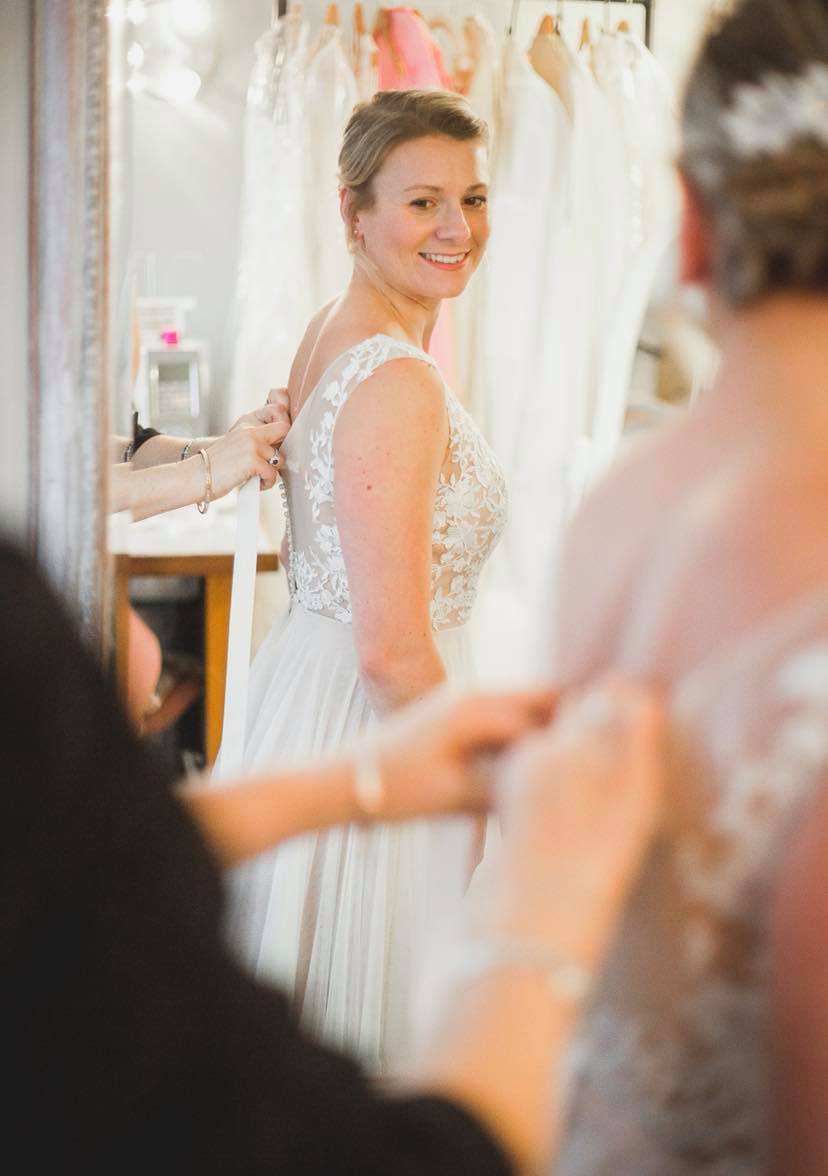 Wedding Dress Alterations
The First Fitting
You'll need at least 2, sometimes 3, or more, dress fittings to make your dress feel like it's made especially for you.  This depends completely on the types of adjustments and work needed.
I recommend allowing two to three months from your first fitting to your last, as an ideal timeline to make all the alterations.
A first fitting is usually booked for at least a couple of months before your wedding day, but I can see you sooner or later than this depending on the type of alterations you require.  I allow 45 minutes for each fitting appointment.  When we chat to book in this first fitting we can decide on a fitting schedule that works for the type of adjustments you'll need.
It is really important to bring your wedding shoes, to get the hem length correct, along with the underwear and bra you'll be wearing on your wedding day, to all your fittings, to ensure a true fit.  The difference a bra or shapewear can make to a dress is huge, so you'll want to wear exactly what you'll be wearing on your wedding day.  If wearing a bra isn't an option because your dress style is low cut or backless, don't worry, as we can look at possibly sewing in bra cups.
The Second Fitting & Beyond
This is the appointment where things will have happened to your dress, taking it towards the final stages, sometimes with lots of hand sewing in place.  At this fitting expect to see some loose and unpicked areas that will now require placement and checking.  Remember, that every gown is unique in its fitting and sometimes extra fitting appointments may need booking. Do remember to bring your wedding shoes and your on-the-day undergarments also.
The Final Fitting
Once all the adjustments have been finished a final fitting will be booked so that a final check can be made. This is often a good time to bring along your best friend or family member that will be helping you get dressed on your wedding day.  I can also show them how best to do this, as many dresses have a variety of hooks, poppers, zips and ribbons!
Collection Day
So exciting! Once you've had your final fitting we can book in a time for collection. This might be on the same day as your Final Fitting.  Remember each dress involves different processes and takes a different amount of time.
I always hand press and steam all dresses before collection, making sure everything is perfect for your wedding day.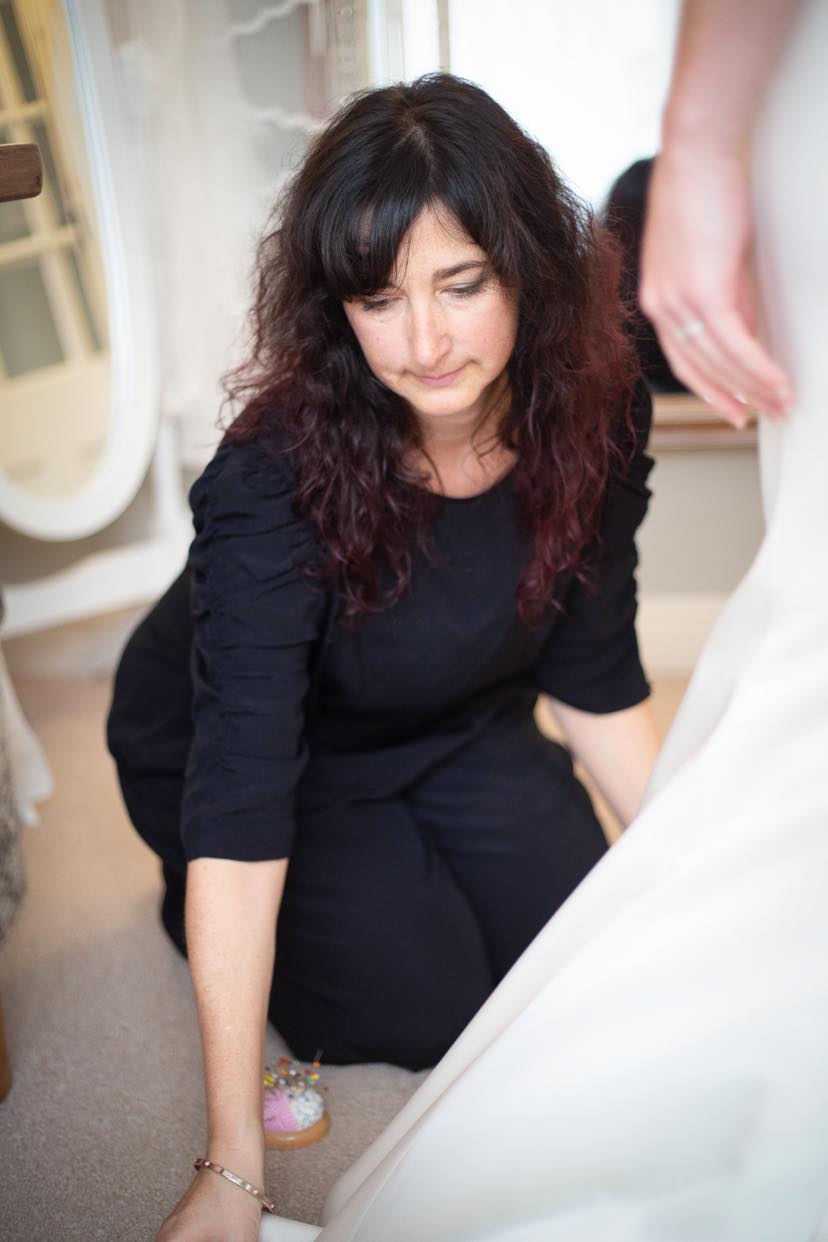 Book A Bridal Consultation
I offer a free bridal consultation appointment.  This is a great idea if you would like a costing and a recommended schedule for fittings, or you are simply unsure of the adjustments that are needed on your dress. Perhaps there are elements you would like added or removed, or advice on how something can be changed.   A free bridal consultation, without any obligation is recommended.
During this appointment you will try on your dress with me, so that we can chat all about those details that will make your wedding gown fit perfectly and feel fabulous.
I can then give you an exact costing along with a recommended schedule for fittings, for you to take home.
'Changing the beautiful into the unique, are what I can do for you.'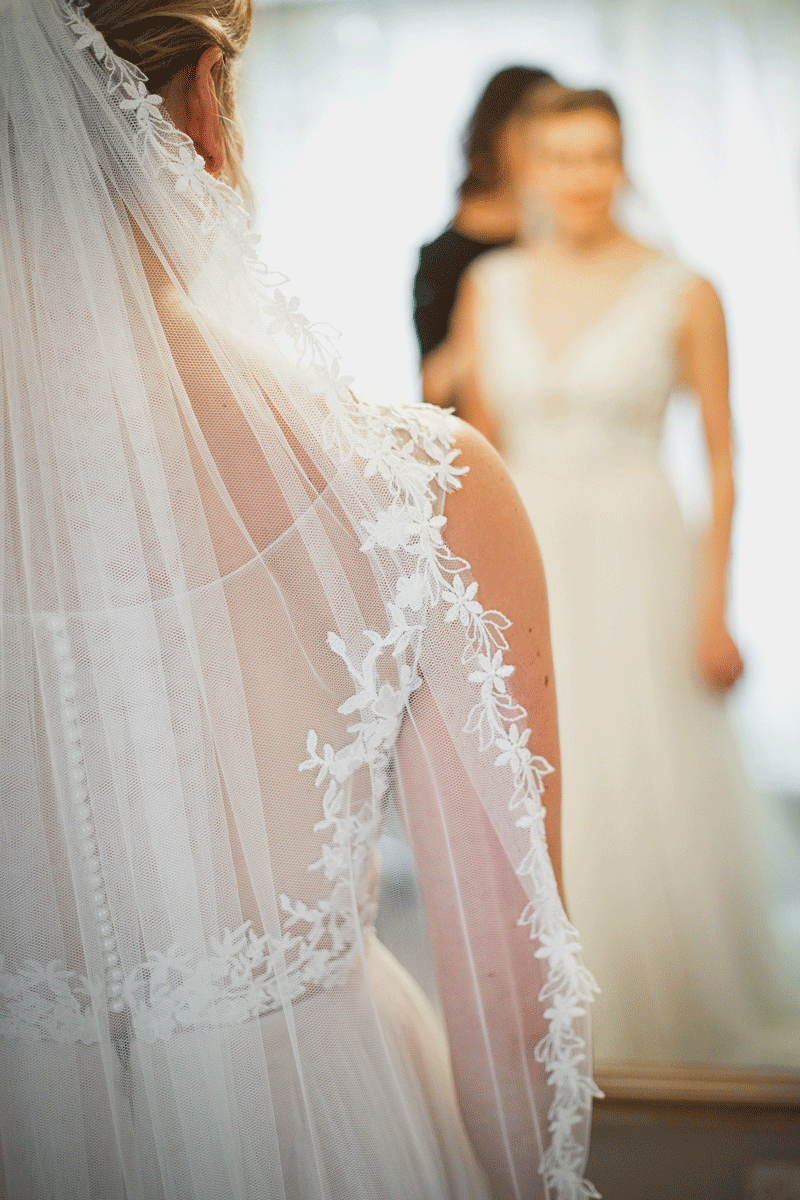 Restoring & Customising Your Wedding Dress
Whether your wedding dress is a delicate vintage piece or a treasured family heirloom or maybe you've found something TRULY special in a thrift store or sale room, you might simply want to preserve its original beauty and charm; repairs and retouches can be made. Or perhaps you'd like a complete revamp, for a more contemporary look. I simply adore these types of alterations because it brings back the beauty and charm that perhaps was a little tired.
Re-imagining & Restyling Your Bridal Gown
There are SO MANY ways to transform a wedding gown, the list is endless!  And a huge part of why I enjoy what I do.  From creating a new neckline to adding sleeves or straps, sashes and belts. Replacing zips, adding a corset, making embellishments, layering lace and trims; re-shaping the silhouette, adding extra tulle or stunning layers, the transformations are boundless! Drop me a message or call and lets chat all about your wedding dress.
Pre-loved Wedding Dress Alterations
I LOVE pre-loved! A Wedding dress is such a special gown simply for the memories it holds, and breathing new life into a bridal gown gives it a new story to tell.  This might involve a little TLC to restore and preserve the fabric and the details.  General repairs and mending might be all that's needed to make your gown simply perfect for you.
Off-The-Peg Wedding Dress Alterations
Who doesn't love a sale rail!!  Especially when it's your most desired bargain EVER!!!  When it comes to your bridal gown alterations though, never cut back because this is when it matters most.
My 'Top-Tips'  before purchasing a sale gown
Make sure your bargain wedding dress is truly worth it. Purchase as near to your dress size as possible or slightly bigger.  Buying a dress that widely varies from your standard fit can be a bit of a chance.  I'm not saying it's not possible to fix, just that it is a little riskier, so definitely ask a professional bridal seamstress before you swipe that credit card.  I'm always happy to be asked whether certain adjustments can be made, and sending me photos is a great way for me to take a peak and give you some advice before committing. Contact me anytime.  But, do know that the alterations might cost a little more, to reflect the amount of work required.
Finishing Touches
I don't just make wedding dress alterations. I LOVE making bespoke dress accessories!  They can add a unique touch to your look.
From the simplest of veils to fully embellished styles and tulle capes.  The bridal veil is still the most iconic bridal accessory and there are so many beautiful options to choose whilst ensuring that it matches perfectly with your dress.
Bridal belts and sashes are a great addition for an instant style change up.  Lace jackets, boleros and overlays are a beautiful statement piece in their own right and can also create two completely different looks on your wedding day, taking you from your wedding ceremony to late night celebrations and partying.  I have many samples you can try on and lots of beautiful fabrics to choose from, we can chat about all your ideas.  And how about a pretty garter to add a little tradition to your bridal look?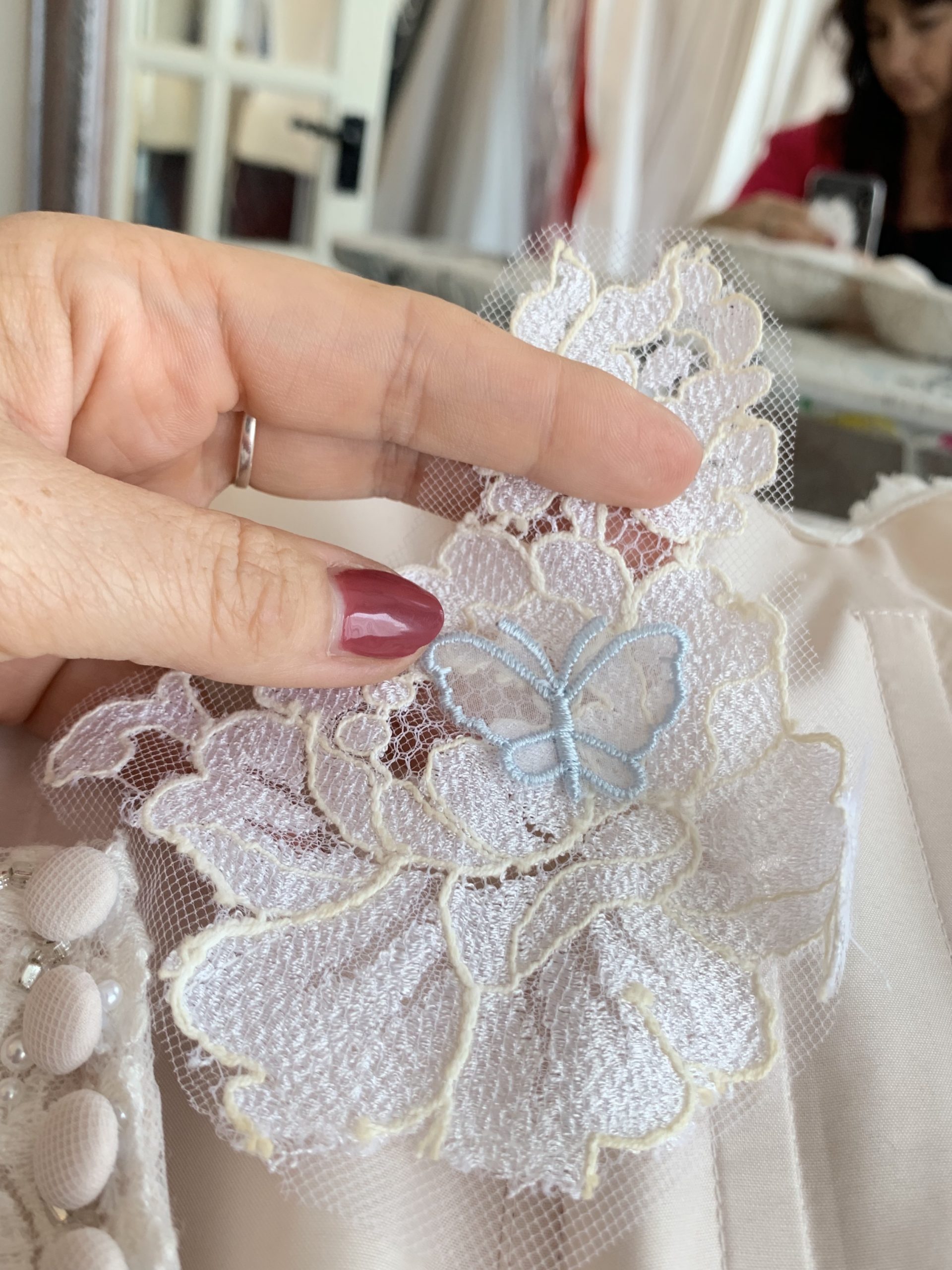 "Something special, something blue I always sew in a little something blue from me to you"
I'm a bit of a sentimentalist and always feel so privileged when I'm asked to embroider a heartfelt message to the inside of your dress. 
This could be your initials and wedding date, maybe a poem, a verse or words that mean something precious to you both. 
Perhaps adding a little memory to honour someone dear. This could be their name, or maybe sewing in a piece of their precious clothing to the inside of your dress. Such a lovely way to remember loved ones and to have them by your side as you walk down the aisle.
'One of the best things about getting ready for your wedding is having your best friends and family by your side.'
Preserving & Storing Your Bridal Gown After Your Wedding
You've had your wedding day and it was everything you imagined it would be.  And don't you wish you could go back and have the day again?   I know I do! But you've got some amazing photos to share forever with friends and family.  So, what to do with your dress?  Well, there are a few things you could do… 
From gifting it to a worthy charity like 'The Wedding Wishing Well'. 
Repurposing it into an heirloom christening gown, or another keepsake item or even transforming it into another special occasion dress.
Maybe you want to admire it everyday and have it made into a luxurious piece of artwork, framed and hung on your wall at home. There are many specialist framers out there but do choose carefully.
Or perhaps you just want to hold onto it and treasure it forever, keeping it safely in a beautiful bridal box!  And then perhaps, occasionally get the girls round for a glass of bubbly and relive the memories.  Maybe try it back on a few times!!! 
Before any decision is made make sure your dress is beautifully preserved after your wedding. It is essential to have your precious gown expertly cleaned to prevent fading, ageing and yellowing of the delicate fabrics over time.  And essential to the after care is knowing how to store your dress and what to store it in.  
A beautiful bridal box using special acid free lining and tissue is recommended.
In todays climate a great deal of thought is needed in the way we manage potentially harmful chemicals for high volume cleaning. So I believe an eco friendly option is not only responsible but also gets the best results, and I've seen some amazing wedding gowns transformed back to sparkling clean after they've been worn through the mud of a weekend festival style wedding! 
Let me know if you would like further details of this special wedding dress cleaning service I offer to all my brides.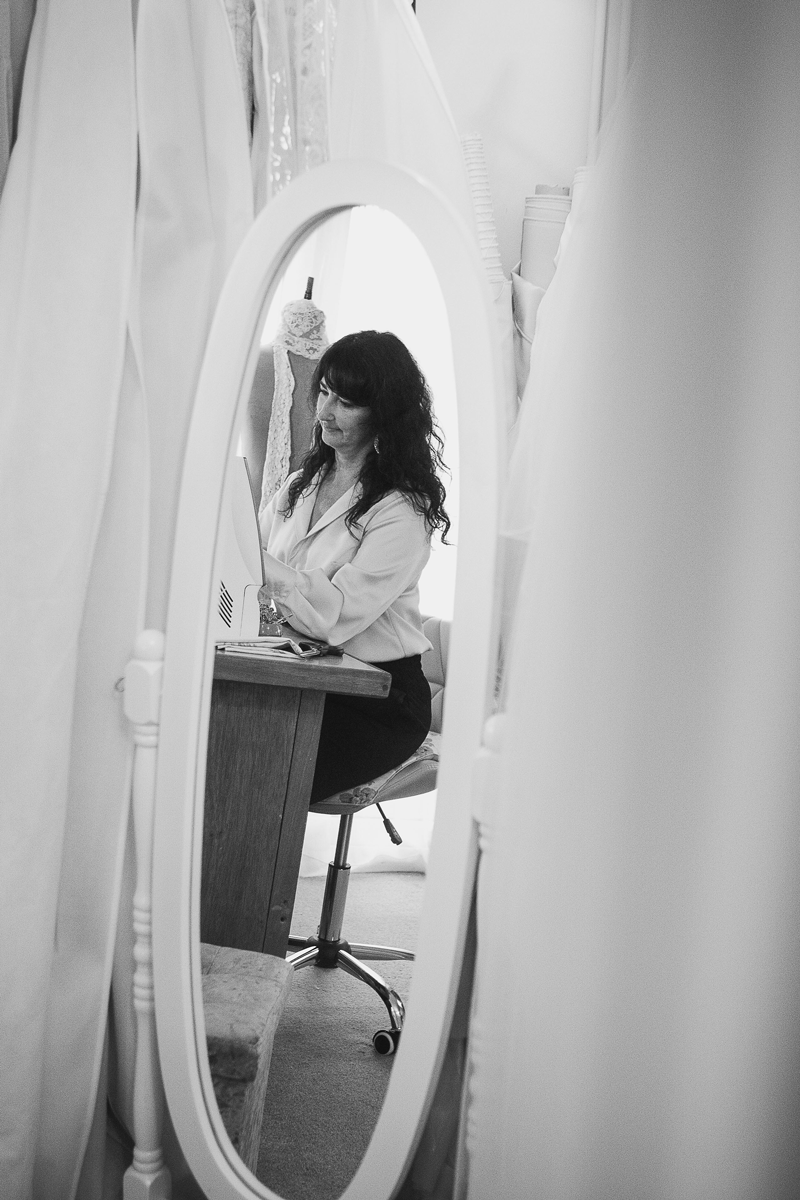 'Our wedding day was everything we could have possibly wanted it to be and the memories will last forever.'
Testimonials
What They Say
"Suzie did the alterations on my wedding dress. She was so friendly, helpful and professional and did an amazing job on my dress, I felt like a princess on my wedding day. I would highly recommend her."
Suzie transformed my wedding dress and I'll forever be thankful. I fell in love with a dress that I brought second hand but it just wasn't looking quite as beautiful when I put it on. A couple of messages to Suzie and two fittings later, the dress was perfect. Suzie appears passionate about her work, I'll be forever grateful for her enthusiasm, her tips and her skill. Without her, I could so easily have given up on my dream dress but with her help, my dress was able to reach its true potential and I adore the little blue butterfly that I found hidden inside. Thank you again for the good care you took of me, Suzie. I would (and have) recommend(ed) you to any brides to be with total confidence x Ps I also brought a very pretty veil (which made me feel like a princess) and the perfect petticoat from Suzie!
"Suzie is absolutely amazing at what she does…I had a last minute issue with my dress 3 weeks before my wedding day & was recommended to contact Suzie (by a previous customer of hers that loved what she had done with her dress) I needed my dress to be altered smaller to fit me & was very worried that we didn't have much time. From the moment I contacted Suzie she reassured me all would be fine & it was plenty of time, I felt relaxed instantly. She was professional but welcoming & after only 2 appointments she had worked her magic & the dress look3d amazing & fitted so well. The sweet little blue butterfly she surprisingly had sewn inside my dress was a really special touch. Highly recommend"
"Absolutely fantastic, suzie altered my dress and bridesmaid dresses perfectly!! They fit amazingly and I love the blue butterfly she adds to the inside. Would definitely recommend her!!! Thankyou!"